Reopening and COVID-19 Information
---
First time joining us? Fill out this form to give us more information about yourself and someone will follow up with you!
---
How do you participate with IDC during this time?
Steps of reopening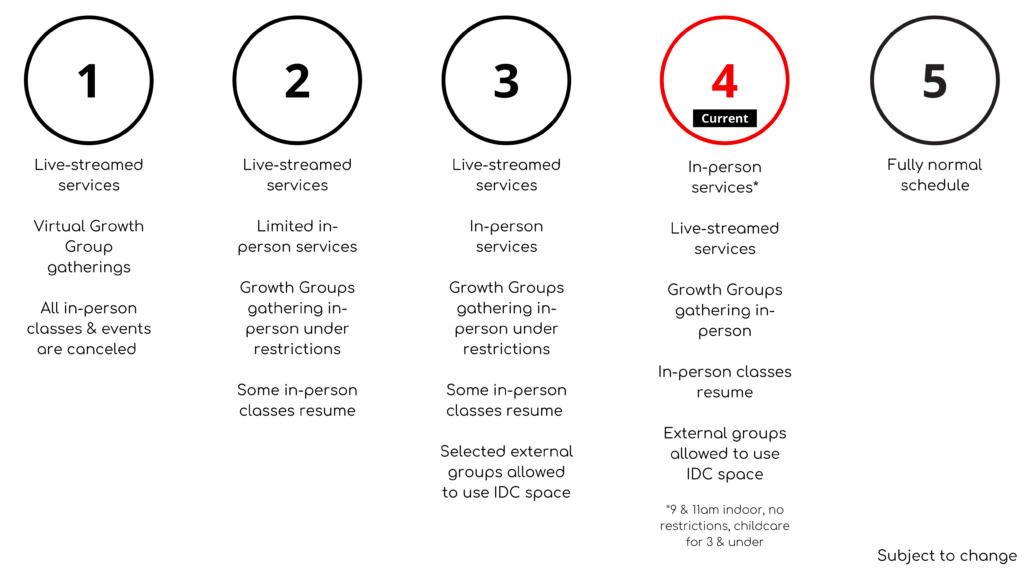 In-person services : We have two indoor services at 9 and 11am. Childcare is available for children 3 & under. Registration is required (link on our home page).
Livestreamed services : Our entire morning, both services, is streamed at idcraleigh.com/live. Follow us on Youtube.
Growth Groups : Groups are encouraged to meet regularly in person or virtually if needed.
In-person classes : Most of our classes are meeting again.
External groups : Selected non-IDC groups will be allowed to use the building under specific guidelines.
How can WE help?
We want to be a church that cares for our members and neighbors during the coronavirus pandemic. If you or someone you know has been affected, please use the following form to request aid, support, counsel, community, and/or prayer. If needed, someone from IDC will contact you as soon as possible.
Click here to complete the IDC Care & Support During Coronavirus form.
How can YOU help?
To give to Imago Dei Church, visit idcraleigh.com/giving, or go through Elexio if you're a member. To give specifically to our Benevolence ministry, select that fund when you make your donation.
Additionally, here are some local ministries that we partner with for you to consider volunteering your time to or giving to financially:
Reopening and COVID-19 Information